About
Our mission is to make bulk chemical production more sustainable by extracting excess energy as electricity, rather than it being wasted as heat. This is achieved using fuel cells. We coined the term 'Clean Carbon Energy', as the energy is effectively free.
The SPOCC Reactor follows on from this work. The reaction between methane and air in a fuel cell produces syngas plus electricity and some heat. This energy is used in situ to power an electrolyser which reacts methane with CO2 to produce more syngas. Once at temperature the reactions are self-sustaining.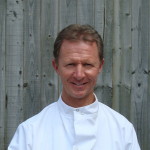 Omnagen Ltd was founded in 2002, by the two current directors Ken Omersa (pictured) and John Nash, both graduates of Cambridge University. Ken is a Chemist and a Materials Scientist, and John's expertise is in Engineering and Materials Science. For those who are curious, the company is named after them - Omersa Nash Generation.
We are happy to collaborate with industry and academia to help commercialise this technology.